Eben erschienen: Der Nachfolgebandes der Saxophone Mantras "33 tricky songs" in der Edition Gruber
Außerdem ganz neu: Die CD Nokolai Kapustin - Chamber Music for Saxophone bei Capriccio. clair-obscur spielt Arrangements für Saxophonquartett und Klavier und ich spiele das Duo für Cello und Altsaxophon. Reinhören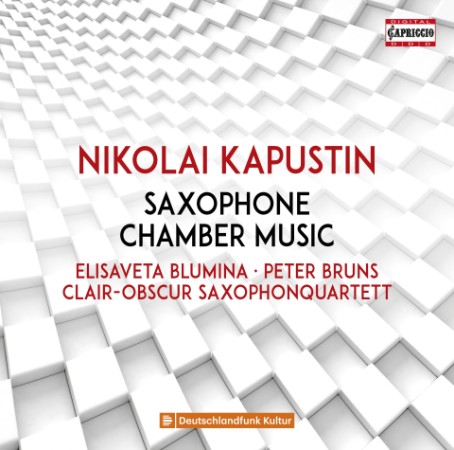 ROSARY CD jetzt erhältich
Zum Download auf Spotify, ITunes etc und physisch im Laden!
Cover Art by Hedy Hempe
Das Fanfare Magazine schreibt:
Although the Composers Concordance label is closely tied to the New York scene, it welcomes all composers and musicians who share its individualistic vision. Christoph Enzel is a saxophonist who plays in the Berlin-based saxophone quartet "clair-obscur," and who performs with the Berlin Philharmonic and the MDR Leipzig Radio Symphony Orchestra. He also is a composer. It will come as no surprise that he performs in all of the works included on this CD, either as a soloist, in a duet with another clair-obscur member, or with the three other saxophonists in the Axes Quartet. In all of the latter works, the Quartet is joined by the Consensus Vocalis Choir, directed by Klaas Stock.
This is quite a rich harvest. The three Rosary Soundscapes("Birth," "Life," and "Death") and the Passacaglia ("Resurrection") are based on four of Biber's Rosary Sonatas. With the more experimental Close to the Edge, these short works make their musical and spiritual points concisely and atmospherically. Some listeners might be reminded of Jan Garbarek's ECM New Series collaborations with the Hilliard Ensemble, and I mean that as praise. The works for solo saxophone and saxophone duet sometimes hover near Glass-like minimalism (The last of the five pieces in Summer Musicsometimes sounds like it could have come from Einstein on the Beach) but I think Enzel has more of a sense of humor than Philip Glass. At any rate, he does not seem to take himself so seriously. This is confirmed in the Three Wagner Paraphrases("Walk," "Elle," and "Tann"). Enzel writes that this is "a saxophonist's approach to the music of Richard Wagner—who apparently hated the saxophone and what it stood for." (I know that Wagner, unable to find enough hornists, used a phalanx of saxophones in the Paris premiere of Tannhäuser, but I am not sure if that incident was the source of Wagner's dislike for the instrument.) "Tann" also is quite Glass-like—take that, Richard! It's a decided workout for Enzel, but his fingers and his breath do not give out.
Enzel is a world-class saxophonist and an imaginative, spiritually-aware composer. Put those together and you've got a CD that one does not need to be a reed player to enjoy. Raymond Tuttle
4 stars – Creative, sometimes off-the-wall, but never heavy-handed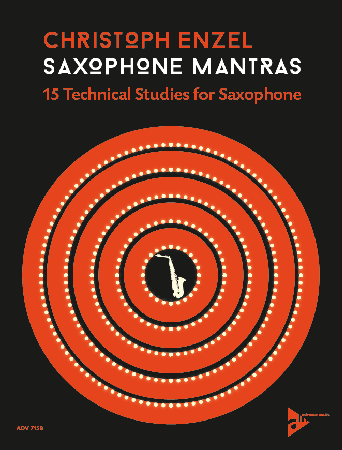 "Saxophone Mantras" ist eine Sammlung technischer Etüden für alle Saxophone, erschienen im Verlag Advance Music
Bob Mintzer schreibt darüber:
"Christoph Enzel's Saxophone Mantra book is a wonderful method book which addresses technical aspects of
saxophone playing in a musical fashion. These etudes pinpoint problem areas of the horn in a logical and
concise way, while never sacrificing the musical line and shape. Job well done!"
Und sonst?
Meine beiden Solostücke "Doo" und "Sea and Cake" sowie die Duos "Lenné Suite" sind bei Chili Notes erschienen
Neue Arrangements
D.Shostakowitch: Jazz Suite I für Saxophonquartett, eben bei Sikorski erschienen
Eduard Künneke: Tänzerische Suite Op.29 für Saxophonquartett und Orchester
W.A. Mozart: Flötenquartett D-Dur für Saxophonquartett
Die nächsten Solokonzerte:
29.3.2020 17 Uhr Stadtkirche Schwaigern: "Meditatio - Musik für Saxophon und Orgel" (mit Andreas Benz, Orgel)
18.4.2020 17 Uhr Bergkirche Beucha: "Meditatio - Musik für Saxophon und Orgel" (mit Thomas Noll, Orgel)
für Konzerte mit clair-obscur hier klicken